We are promoting Porirua, the young talent within the city, and helping to foster a sense of community pride.
Kia eke panuku

 2020
PORIRUA YOUTH AWARDS
These awards celebrate Porirua students who are excelling in one of the following categories: academic, environment and community, art and culture, and sports. The annual event is always well attended and includes presentations from the Mayor to recognise some of the most promising shining lights in Porirua.
Different from most awards, the Porirua Youth Awards recognises rangatahi in two age categories – junior (12-15 year-olds) and senior (16-19 year-olds). The Porirua Youth Awards helps Porirua City acknowledge our rangatahi who are leading the way.
Applications open 18 August 2020
Applications closes 21 September 2020
Interviews held with judging panel 12 – 16 October 2020
Youth Awards function 22 October 2020
For more information and to download an application form go to:
 www.poriruayouthawards.org.nz
 2019 PORIRUA YOUTH AWARDS RECIPIENTS
He whakamihi, congratulations to our 2019 Porirua Youth Awards recipients!
Hadi Daoud, 17yrs (Year 12, Aotea College) –  Excellence, Education
Jess Reiher, 17yrs (Year 13, St Mary's College) – Excellence, Environment and Community
Mika Thomas, 13yrs (Year 9, Kapiti College) – Commended, Art and Culture
Will Anthony, 15yrs (Year 11, Scots College) – Commended, Sport
Alex Crampton, 15yrs (Year 11, St Mary's College) – Commended, Education
Emelita Fa'asalele, 15yrs (Year 11, Bishop Viard College) – Commended, Sport
Blake Paynter, 16yrs (Year 12, Aotea College) – Commended, Sport
Tiresa Fomai, 17yrs, (Year 13, Porirua College) – Commended, Art and Culture
Tayne McMahon, 17yrs (Year 13, Tawa College) – Commended, Education
Isabel Ayora, 17yrs (Year 13 Aotea College) – Commended, Education
Nopera Kopa, 18yrs (Year 13 Te Kura Māori o Porirua) – Commended, Art and Culture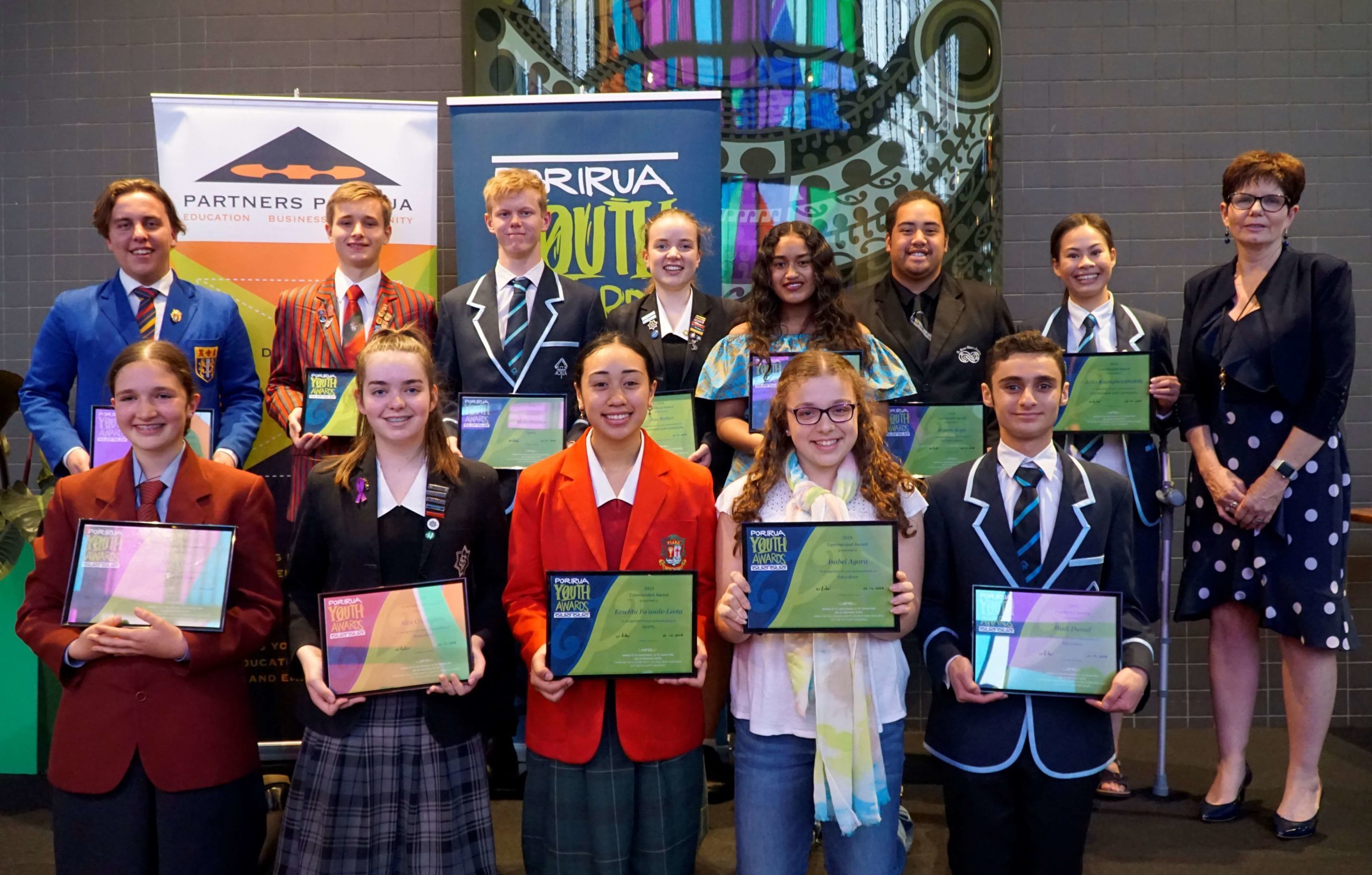 Back: Tayne McMahon, Will Anthony, Blake Paynter, Jess Reiher, Tiresa Fomai, Nopera Kopa, Julia Koumphonphakdy, Mayor Anita Baker
Front:  Mika Thomas, Alex Crampton, Emelita Fa'asalele, Ana Ayora who accepted the award on behalf of her sister Isabel Ayora, Hadi Daoud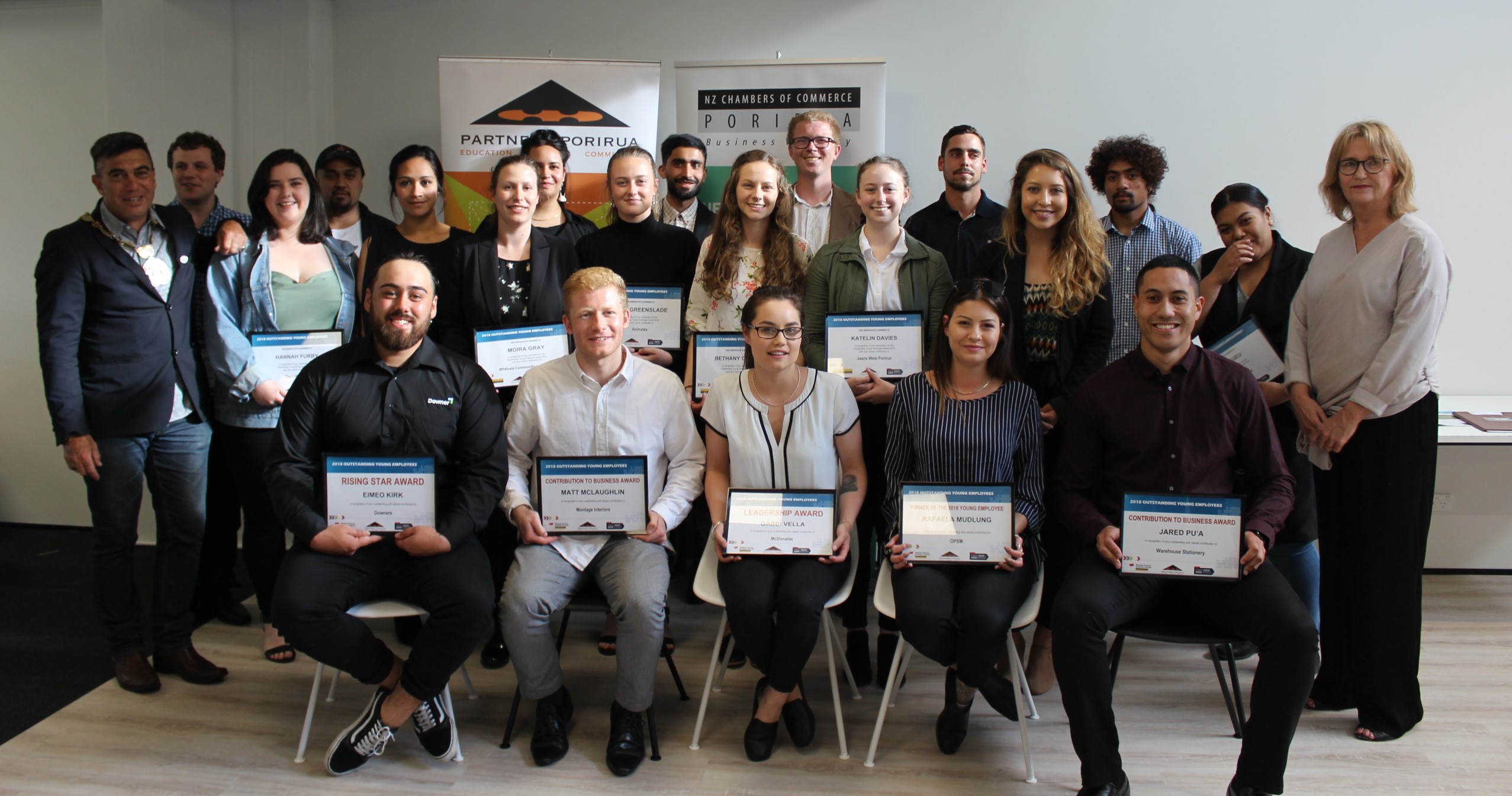 YOUNG EMPLOYEE AWARD AND DALE CARNEGIE AWARD
Each year Partners Porirua coordinates these awards as a way of celebrating many of the outstanding rangatahi employed in Porirua. Dale Carnegie also sponsors the Young Leader of the Year who receives a scholarship to attend this world-famous programme. 
The Young Employee Awards evening was recently held in conjunction with the Porirua Chamber of Commerce at a new venue, The Settlement in Porirua, a great place to celebrate our youth.  Nominees included young employees from across many different sectors such as hospitality, sales and service, construction and recreation. This year we had a record 22 nominations, all a very high calibre. The feedback from employers and attendees at the function has been very positive.
CONGRATULATIONS 2018 WINNERS
Winner of the 2018 Young Employee Award – Rafaela Madlung from OPSM
Dale Carnegie Leadership Award – Gabbi Vella from McDonalds, Porirua
Rising Star Award – Eimeo Kirk from Downer Construction/Transport Services
Contribution to Business Award – Jared Pu'a from Warehouse Stationery
Contribution to Business Award – Matt McLaughlin from Montage Interior
RECOGNITION FOR PARTNERS PORIRUA'S WORK
Partners Porirua is well recognised for its community contributions and sound business practice. In 2013 and 2016 the organisation was named the winner of the Outstanding Contribution to the Community award at the Westpac Porirua Business Awards.  Tau kē!
Partners Porirua was also recognised for the valuable contribution of volunteers in being named the 2014 Porirua region Supreme Winner in the Wellington Airport Regional Community Awards.
A key success factor for Partners Porirua has been its ability to bring together businesses and community to work alongside educators to encourage rangatahi to be innovative, enterprising and entrepreneurial. These are the qualities required for the workforce of the future and the key to developing youth for te ao mahi, the working world, .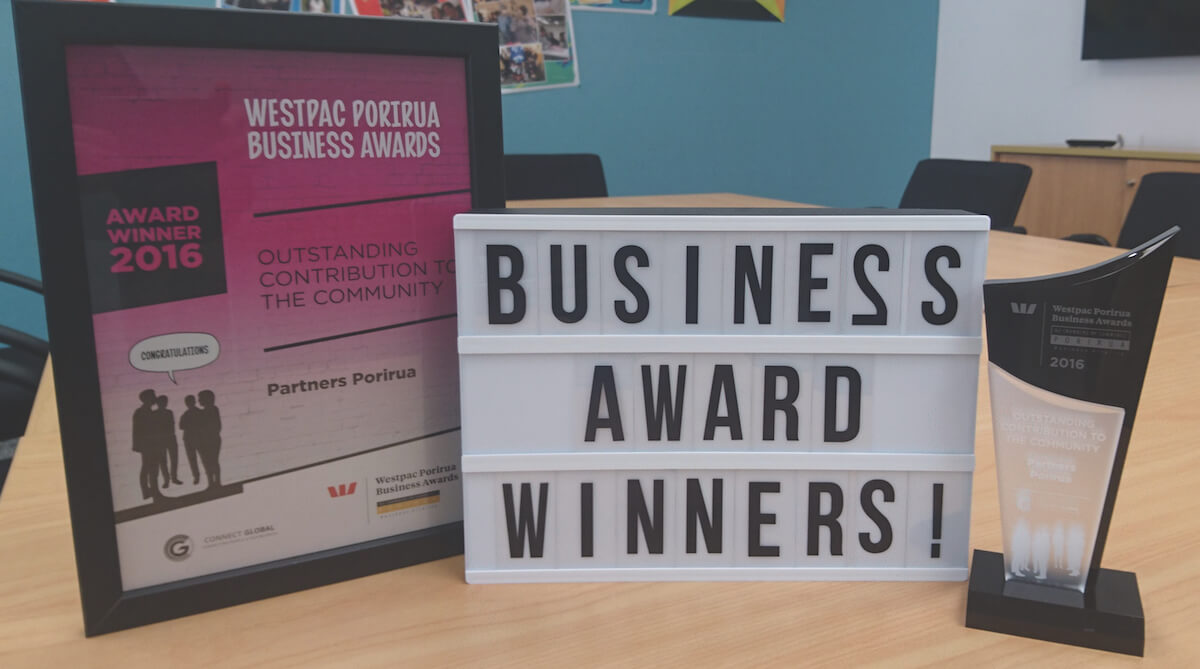 "We are promoting Porirua, the young talent within the city, and helping to foster a sense of community pride."
Michelle Robinson
Executive Director
Partners Porirua
"The Dale Carnegie Leadership award made all the hard work worth it. The confidence this gave me, and the scholarship I received, enabled me to accomplish things beyond what I would have thought was possible."
Jessica Pritchard
Young Leader of the Year scholarship recipient 2017
"The Young Leader of the Year scholarship provides outstanding young employees in Porirua with the opportunity to shine and develop into outstanding leaders of the future. We're proud to sponsor this initiative."
Peter Couchman
Managing Director
Dale Carnegie Wellington