Partners POrirua is joining the yep network 2021

Partners Porirua is a youth facing NGO that has been a core of Porirua City for nearly 20 years. They deliver programmes to young people/rangatahi in Porirua through forming partnerships with local schools, local councils, and employers with the aim of supporting young people/rangatahi build positive outlooks on their life, and importantly their work life. Partners Porirua runs several successful programmes including the Youth 2 Work movement, Drive4Life, CAREERfest and they manage the local Youth Service contract. They have also recently been appointed as a provider for the Tupu Aotearoa programme, to provide sustainable employment and tertiary education pathways to support Pacific communities.
CEO, Michelle Robinson says Porirua is filled with talented and resourceful people who are very family and community focusing. This enables her team to link role models with young people to support and inspire them to look broadly at opportunities available. She says young people feel more confident and encouraged in working with people that look like them. Seeing people in their community build exciting careers, or their own businesses, helps them build positive career and life aspirations.
Porirua Partners embraces and celebrates the richness of diversity every day.  The team embodies cultural diversity with the belief that this reflects the community of Porirua. Their office space sits right in the heart of the shopping centre with a focus on being as accessible as possible to young people. Michelle says there is never a dull moment at work. It can be exhausting, challenging, exciting and immensely satisfying, but never boring,
Michelle and team have decided to run the Ultimate edition of YEP in 2021. She feels the values of YEP align well with the values of Partners Porirua and the programme will strengthen the programmes they are currently providing for young people. She also likes the idea of being part of the YEP Community of Practice and linked into all the discussions and developments that are happening across New Zealand.
Michelle is looking forward to 2021, after a very challenging 2020. She believes 2021 is going to be a great year.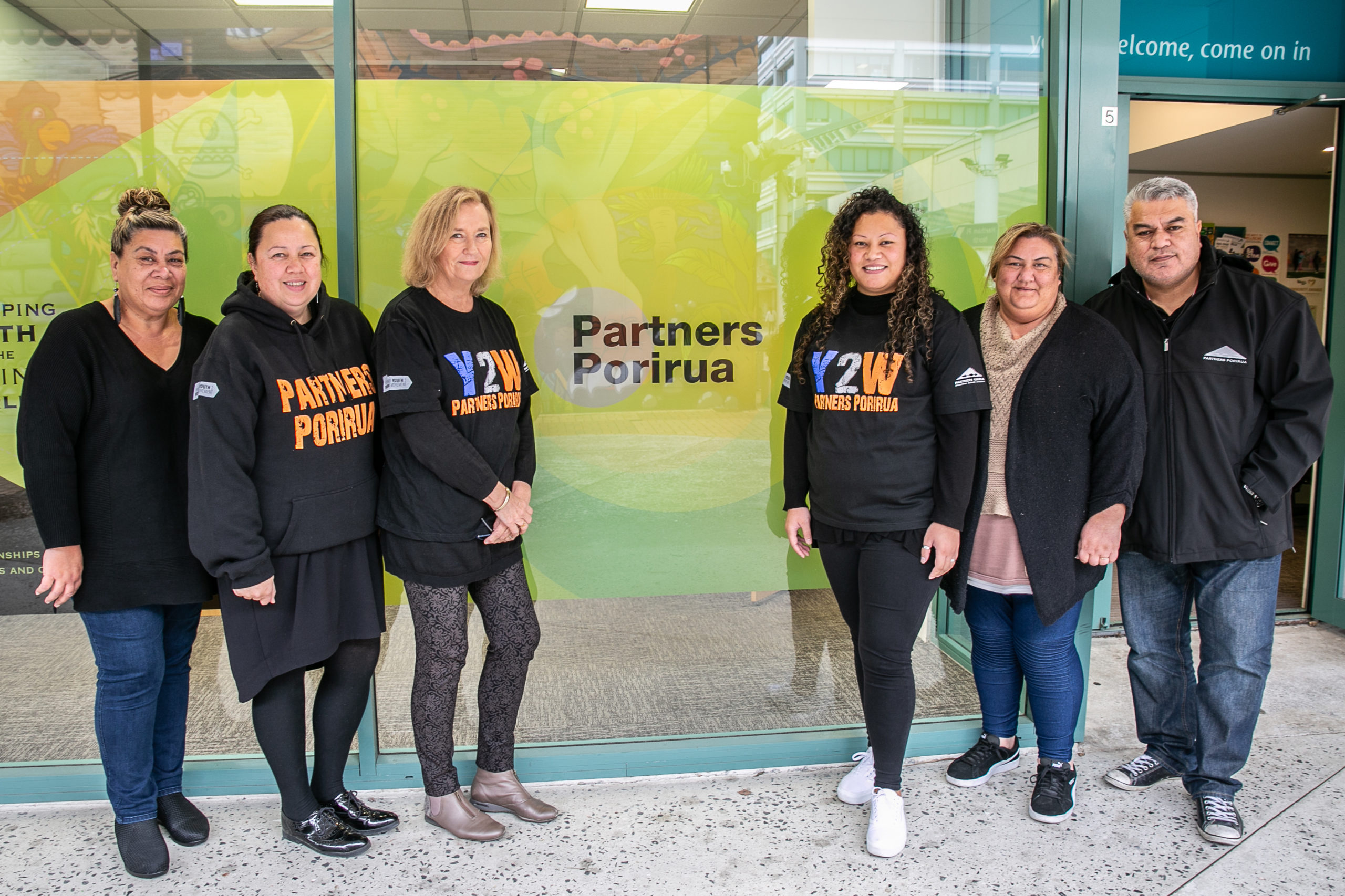 Left to Right:  Arlyta Huriwai (Operations Manager), Jacqui Edwards (Work Development Manager), Michelle Robinson (Executive Director), Jewelz Kilino (Drive 4 Life Coordinator), Ollie Adams (Senior Youth Coach), Salā Henry Samia (Project Lead – Youth Services).