Tupu aotearoa comes to porirua

Getting help just got a whole lot easier for young Pacific people in Porirua with the launch of the Tupu Aotearoa programme.
Partners Porirua is running this Ministry for Pacific Peoples initiative to support Pacific people, over the age of 15, as they transition into their next phase be it work, training or tertiary study. Locally the service will be known as Tupu Rangatahi.
Partners Porirua Executive Director, Michelle Robinson, says launching the Tupu Rangatahi service from a new space feels like a new beginning, "which is important for our young people".
This new Tupu Rangatahi space is a partnership between Porirua City Council and Partners Porirua and is a place where organisations can come together to deliver programmes. This makes it so much easier for young people who currently have to navigate their way between various organisations to get what they need."
"During-Covid we've seen unemployment rising across the board but there has been an exponential impact on young people, and we've been looking at what we can do to support them."
She says 40 per cent of the population in Porirua are young people and a large proportion of those are Pacific. "This is a group of people we're already familiar with, and it's awesome to now be able to offer the targeted Tupu Rangatahi services to them."
Headed up by Partners Porirua youth services project lead, SALĀ HENRY SAMIA, , the programme is about helping Pacific people into sustainable employment and tertiary education pathways.
Mr Samia says that while Partners Porirua has been working with young people in this transition space for a long time, they haven't had the resources to meet all the needs.
"This programme means we can do more work with Pacific young people and we can also start connecting with their families and their communities. This is a really good opportunity to help young people put more thought into their pathway, and for us to help them be supported by their own community," he says.
Anyone wanting more information on Tupu Rangatahi can call 04-237 1097 to make an appointment or pop into 7 Selby Place (next to the F45 gym) during opening hours on Tuesday, Wednesday and Thursday afternoons.
For further information contact : 
Henry Samia, Project Lead – Youth Services 
Henry@Partnersporirua.org.nz 
Ph – 027 229 9208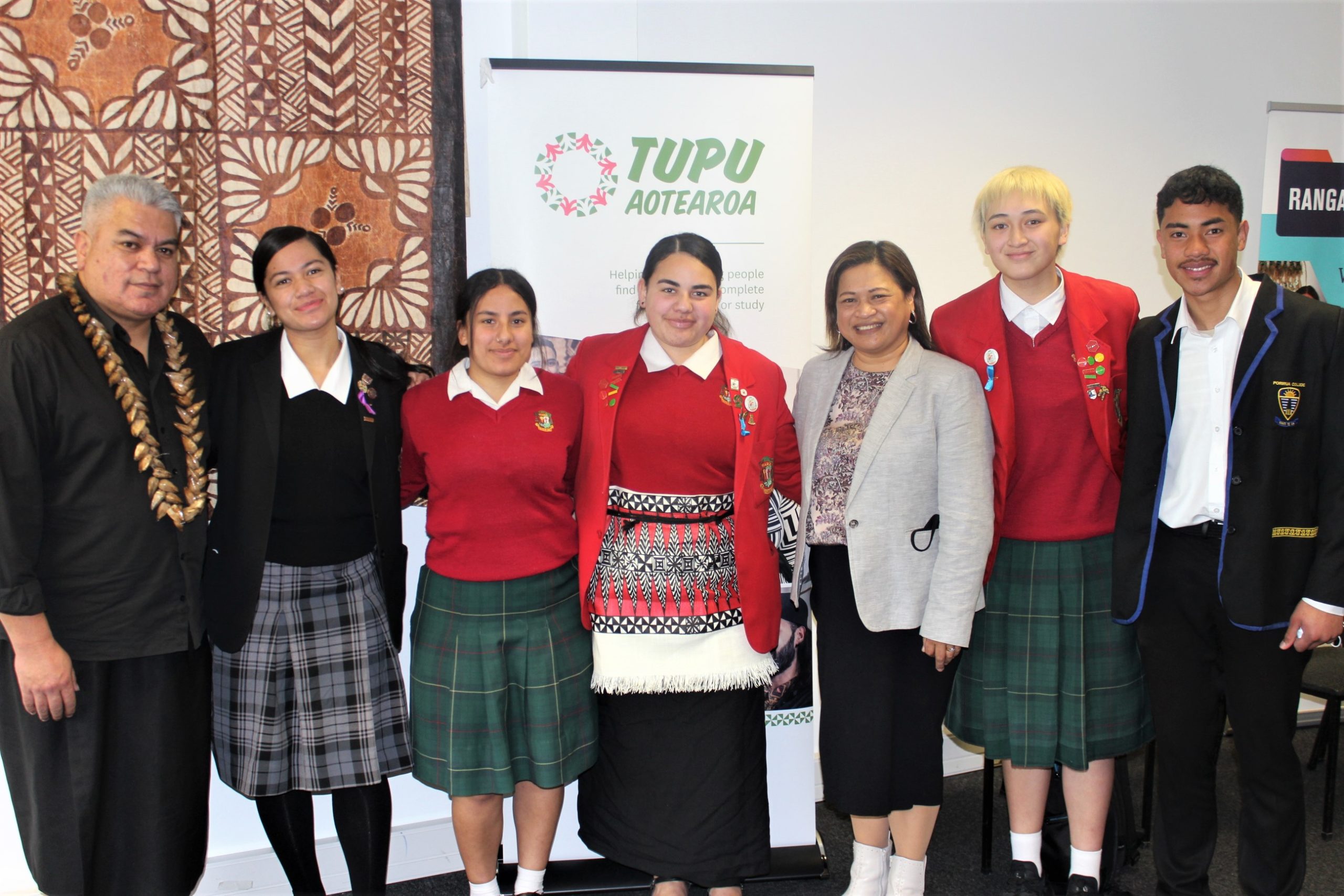 Aiolupotea Sina Aiono, Salā Henry Samia, students from Bishop Viard College, Porirua College and St Marys College at the launch of Tupu Aotearoa in Porirua.