Porirua's outstanding young employees 2018

The Young Employee Awards evening was recently held in conjunction with the Porirua Chamber of Commerce at a new venue, The Settlement in Porirua,  a great place to celebrate our youth.     
This years's nominees have all made a significant contribution to the success of their employer's business.  They are keen to succeed, future focused and determined to do the best they can for their employer and themselves.
Congratulations to all the mominees, this year's winner's and their wonderful employers.
CONGRATULATIONS 2018 WINNERS
Winner of the 2018 Young Employee Award – Rafaela Madlung from OPSM
Rising Star Award – Eimeo Kirk from Downer Construction/Transport Services
Dale Carnegie Leadership Award – Gabbi Vella from McDonalds, Porirua
Contribution to Business Award – Jared Pu'a from Warehouse Stationery
Contribution to Business Award – Matt McLaughlin from Montage Interior
CONGRATULATIONS 2018 NOMINEES
Moira Gray, Whitireia Community Law Centre
Joshua Cook, Porirua New World
William Dyne, Whitireia New Zealand
Eimeo Kirk, Downer Construction/Transport Services
Arianna Rangi, Tu Ora Compass Health
Hope Greenslade, Animates
Gabbi Vella, McDonalds Porirua
Amanda Tohi-Ariki, Kmart
Huia Martin-Chambers, Kmart
Katelin Davies, Jeans West Porirua
Jared Pu'a, Warehouse Stationery
Te Mai Akuhata, Tony's Tyre Service
Te Popoki Tait-Olsen, The Porirua Whanau Centre Trust
Kishan Thanawala, Café Kaizen
Hope Sapsford, Peppermill Deli Café Porirua
Matt McLaughlin, Montage Interiors
Sula Taueu, Denny's Restaurant
Jules de Vries, Mexted Performance Sports Surfaces
Rafaela Madlung, OPSM
Hannah Furby, The Little Goat
Bethany O'Grady, Black Rose Florist
Lema Ropati, Unite Recruit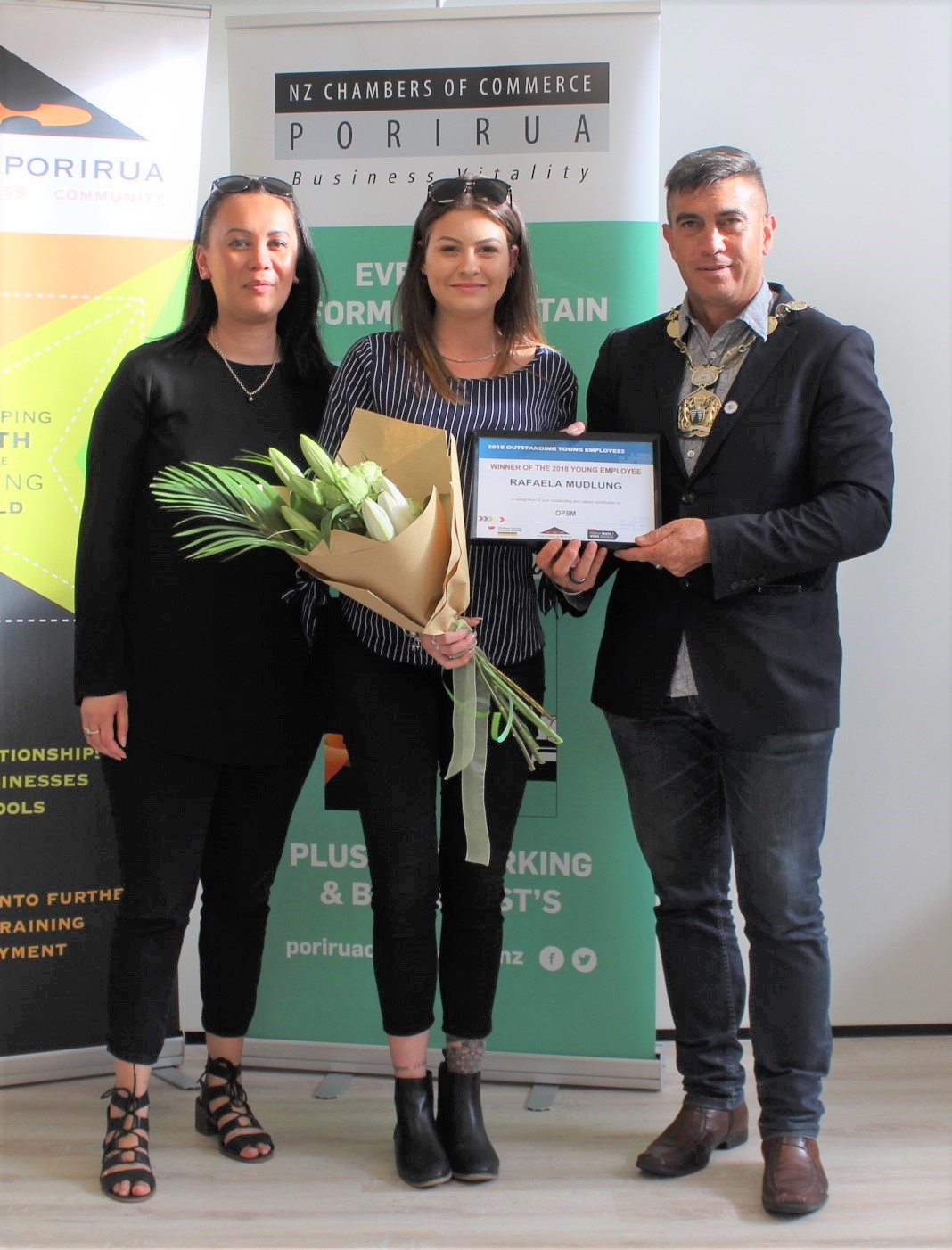 OPSM Porirua Store Manager, Yvanni Johnson with Rafaela Madlung  and Mayor, Mike Tana.