Walking the talk – Partners Porirua
Landing a job at Partners Porirua was happy accident for Mytthius Asa who first got involved with Partners through its Youth 2 Work Movement.
Having finished Year 13 at Aotea College, Mytthius signed up for the job seekers benefit with Work and Income while she was seeking work.
Work and Income are one of the Youth 2 Work Movement partners and actively encourage their young job seekers to sign up with Youth 2 Work and take advantage of the opportunities on offer.
Mytthius started working with Porirua Workforce Development Manager to improve her CV and to make contact with employers. She had several interviews in Wellington but ideally wanted to work locally in Porirua.
As is often the way with these things two local opportunities came up at the same time, one with MBIE and the other at Partners Porirua.
Mytthius is loving her role at Partners Porirua. "I'm learning a lot like how to work independently, how to make sure that I complete tasks on time. It's a real team here, everyone has a part to play and I'm helping to make sure the team can support the young people we work with."
"I really love getting to meet new people, everyone that comes in here comes from such different backgrounds – Porirua is such a diverse city."
Mytthius is also enjoying working with the Partners Porirua team. "I'm learning from their experience it's giving me lessons in life skills, how to be patient and firm and how to manage my time.
She's also achieved her restricted driver licence after completing the Drive4Life programme run by Partners Porirua.
Jacqui Edwards, Partners Porirua Workforce Development Manager, says it's a pleasure working with Mytthius. "She's really hard working and diligent and a great communicator – you just know she's going to achieve well long term. Honesty and the right attitude are a great place to start – she'll give anything a go."
As well as her job at Partners Porirua, Mytthius was recently named as a Youth 2 Work Ambassador making sure young people in the community know what's available to them and how they can access this.
Mytthius' advice to other young people is to have the right attitude and believe in themselves. "Everyone has potential, but some people get down on themselves. They don't need to, they have potential beyond measure, they just need to persevere."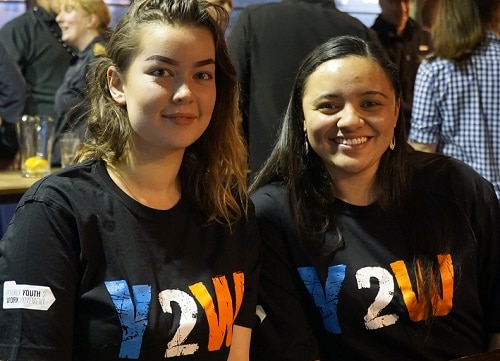 Mytthius Asa
Y2W Ambassador